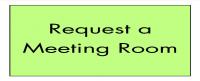 Clicking on the above button and making a request to use one of the meeting rooms constitutes acceptance of the library's Meeting Space Policy. If your meeting room request  day and time is within the next 24 hours, please contact the library directly at 740-587-0196.
You and your group can reserve one of the library's public meeting rooms and check their availability by using the button above to access our online reservation system.  You may also bring in a completed Meeting Space Request Form as another way of making a reservation.  Either way, a staff member will review your request and contact you to confirm the registration by phone or email.
Community Room (Lower Level of library near Children's Department): has a maximum capacity of 50 people and has equipment available such as tables, chairs, a projector and screen for presentations, audio equipment, a small catering kitchen, and other amenities.
Learning Lab (Upper Level): classroom-style seating for nine people as well as room for presenters.  Table tops are equipped with data and power outlets, and a 50" television and device ports (VGA and HDMI) are available at the front of the room for multimedia presentations.   
Use of the meeting rooms is contingent upon the individual or group's agreement to the library's Meeting Space Policy.   We encourage you to read the policy in its entirety from the link above, but here are a few relevant details.
The rooms are available only during the states hours; please see here for a list of our closed holidays. 
Library programs and events take precedence over public use of the rooms.  
Use of the meeting rooms is free.
Meeting Rooms may not be used to promote, advertise, or lead to the sale of a product or service.
Rooms cannot be reserved for the public more than three months in advance.
Food and beverages may be served in the Community Room, but only beverages with lids are permitted in the Learning Lab.   
Individuals and/or groups are responsible for the set-up and clean-up of the rooms. The room must be returned to its original configuration at the conclusion of the group's use.
The individual making the reservation is responsible for any damages that come as a result of using the meeting rooms and must be at least 18 years of age. 
Any questions concerning use of the meeting rooms should be directed to Anna Carlson, acarlson@granvillelibrary.org or by calling 740-587-0196.
 
---